More than 90% of companies would move to cloud solutions! What are you waiting for?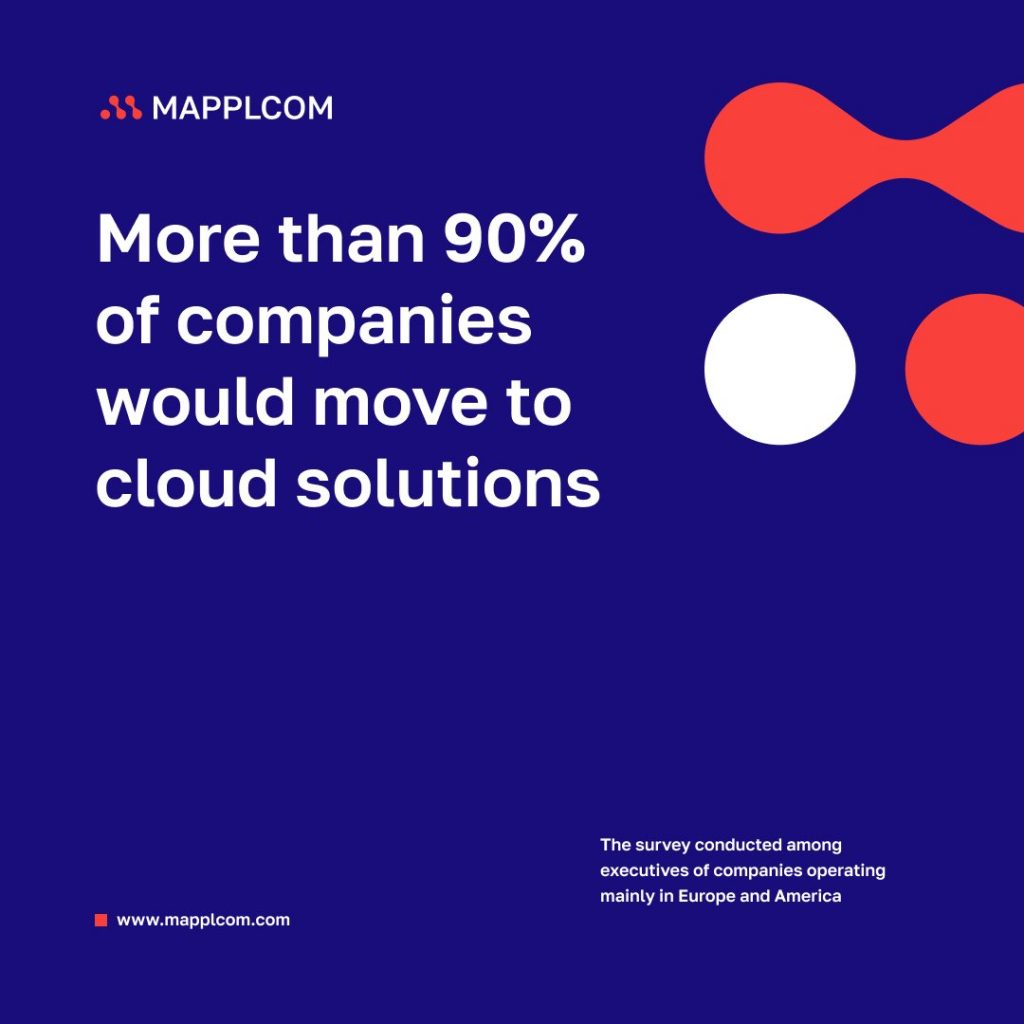 Cloud solutions represent one of the most technically innovative ways to store data. It does not require any capital investments or special tools adoption but allows any company to keep its data sets, statistics, observations, partners and employees' contacts, products' specifications, corporate info, strategic documents, resolutions, agreements on some distant service in order to refer to the necessary things whenever and wherever the referral is needed (supposing the access is provided). However, the spread of cloud environments and particular solutions does not seem to be high enough compared with its popularity and potential benefits. What are companies mainly concerned with and what are the hidden hurdles everyone is so suspicious about. What actions should be taken to overcome these temporary barriers?
According to the results of recent survey conducted among executives of companies operating mainly in Europe and America, more than 82% of respondents express complete agreement that their senior management "understands and values progressive technology", around 85% of participants state they would prefer multi-cloud solutions.
These results demonstrate a predominant desire to shift all IT-infrastructure to the cloud-based platforms, but for the question "why this particular transfer has not been made already?" the following answer comes: 'perfect solution' is not readily available to all companies just yet. And the crucial issue to address here is the matter of trust to cloud service provider. The security problem is considered to be a major one by 85,2% of respondents resulting in providing extra encoding facilities and extra verification to be one of the main actions that might be taken to boost the employment of the "clouds".
Another point worth mentioning – being stuck with one vendor or provider (so-called vendor lock-in) fear of which is identified by 78% of participants. This explains the importance for players in the market of cloud services to deal with mainly multi-cloud services or ones being developed as a whole "environment" – covering most functional departments (HR, financial, marketing and so on) as well as involving omni-channel approach. However, this also acts as a motivator for developers to increase market presence with highly specific differentiated product which cannot be co-used with other producers' tools – thus making it costly and time-consuming for their clients to switch.
Finally, 48,3% admitted lack of skills or resources needed to apply cloud solutions. For this reason, knowledge exchange procedures between players are required to foster the level of general capacity of the more effective cloud services employment.
Many companies are just now realising the potential of cloud services helping them fulfil their digital transformation goals and even if their transformational journeys may have started a long time ago, but they are far from over. Rapidly evolving business challenges mean that diversity and collaboration are necessary to move forward.
mapplcom.com/